land products COUPLINGS - ALL METAL RESILIENT COUPLING

---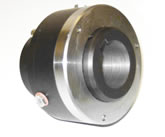 Designed to have varying resilience, the resilience decreasing from a light load condition to a constant level at the working torque, with an oil film between the spring members to act as a damper and cushions the coupling against shocks.
These Chadburns-Mollart PT resilient couplings are compact compared with other couplings of similar capacity.

There are 23 standard sizes with capacities ranging from 70NM to 100,000NM each can be supplied with various spring combinations to cover the exact duty required.
The couplings are manufactured from steel and have minimal maintenance requirements.